FOODPathS event | 26 Apr 2023 | Valladolid (Spain)
National Living Lab (Spain)
FOODPathS is glad to announce an event of the National Living Lab in Spain, where companies, researchers, farmers and other actors beloning to local, national and European initiative will meet to discuss on the topics of the quality, production, packaging and sustainability of food. Join us in Valladolid or watch the live streaming on 26-27 April!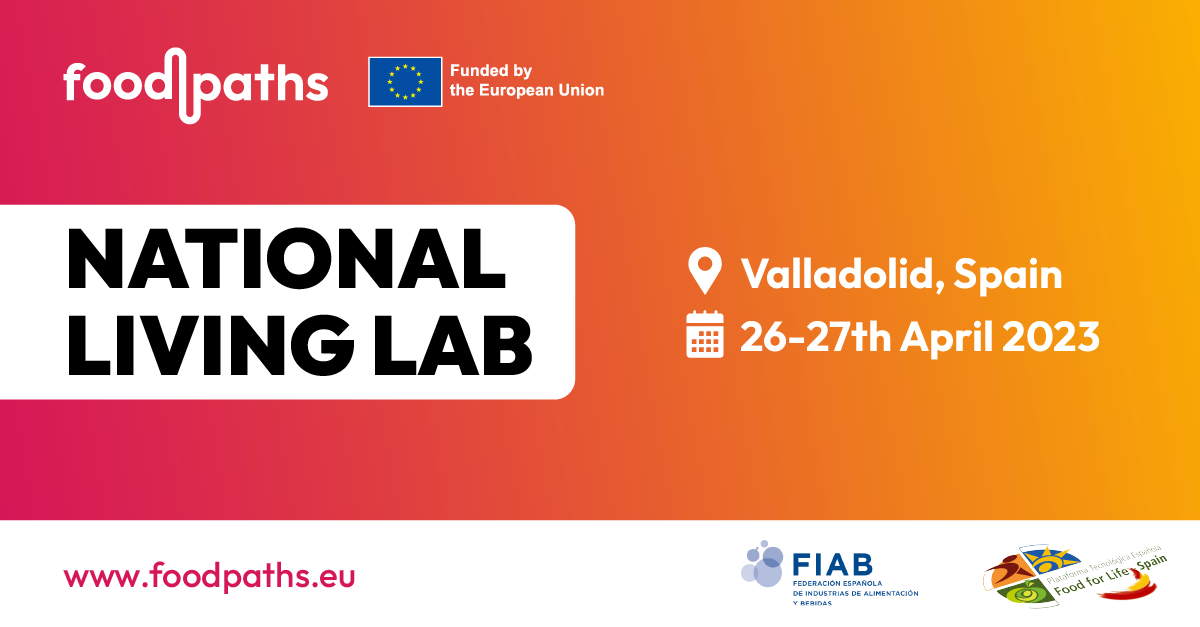 Sustainability in food production is becoming an increasingly important topic for companies, farmers, consumers, researchers, and policy makers alike. They are all eager to share their opinions, concerns, best practices, and future perspectives. What better place to discuss these issues than at a National Living Lab?
This event, organized by the Spanish Food and Drink Industry Federation (FIAB), in collaboration with the FOODPathS and FUSILLI projects, aims to bring together stakeholders to discuss various topics related to sustainability in food production, such as energy consumption and the use of biomass. The event will particularly support the "Quality, Production, Packaging, and Sustainability" working group of the Food for Life-Spain Platform in improving its Strategic Actions Agenda. In addition, participants who attend the event in person will have the opportunity to take part in study visits.
Spanish will be the working language of the event, but the presentations of the projects will be conducted in English.
The Living Lab discussion will take place on 26 April morning, and in the afternoon the participants will be involved in study visit. The agenda for that day is available here. On 27 April – opened only to the people that will participate on site – another study visit and a networking activity will take place.
If you plan to attend online (only 26 April morning, 11.00-14.00 CEST) you can register filling the form available here and you will receive all information to join on your email.
If you plan to attend in person, please, contact the organisers (Mrs. Concha Avila – c.avila@fiab.es)