FOODPathS event | 22 May 2023 | Piazza Università, Bolzano (IT)
Funders Forum @ ERIAFF Conference
FOODPathS joins the ERIAFF Conference (Bolzano, 22-24 May) to discuss the role that regions can have in the sustainable food systems transition. In this context, a specific discussion will be held during the ERIAFF Food System working group.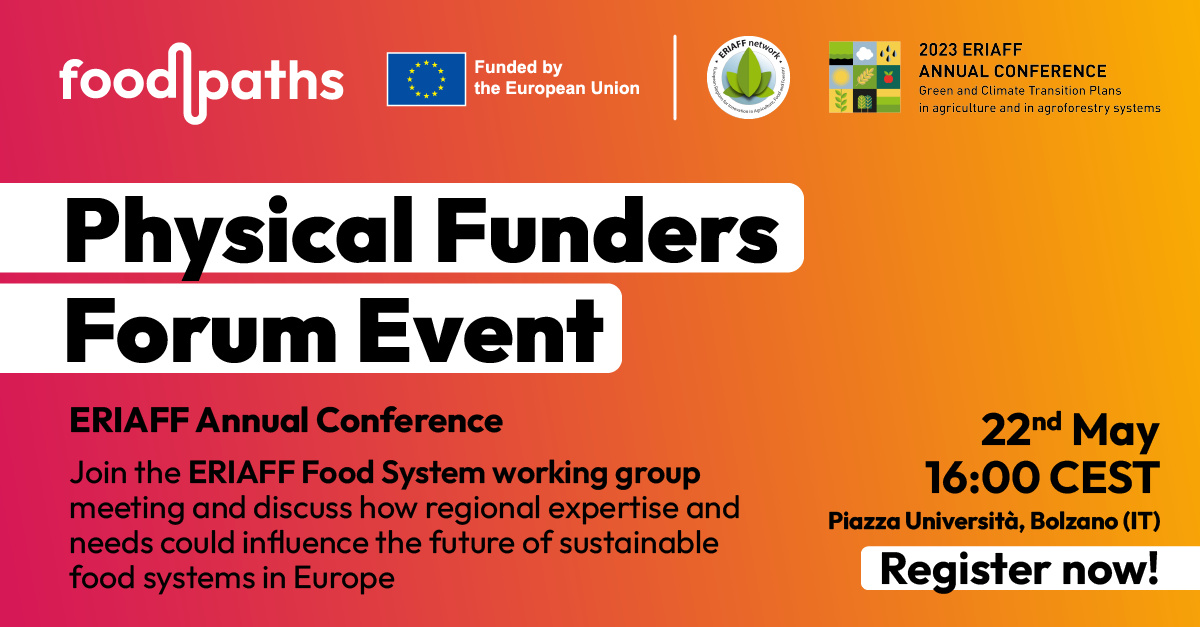 Regions play a crucial role in the shift towards sustainable food systems in Europe. They are responsible for implementing policies, initiatives, and strategies that promote environmentally friendly practices and local food production. The regions can bring together local communities, food producers, and stakeholders to create sustainable food systems that support the production and consumption of healthy, fresh, and nutritious food.
Indeed, FOODPathS could not choose any better place than the ERIAFF conference (Bolzano, Italy, 22-24 May) to discuss about the role that regions can play in the framework of the future European Sustainable Food Systems Partnership!
On 22nd, FOODPathS will join the ERIAFF Food System working group (lead by our partner SeAMK) for organising an on site funders forum to discuss, how regional expertise and needs could influence to the future of sustainable food systems in Europe. During the meeting, Wouter Spek, Director at EuroBioForum Foundation, will give an inspirational speech titled "Regions as changemakers for the food system transformation in Europe",  to trigger the debate among participants. The full agenda of the Funders Forum is available here.
Moreover, FOODPathS is invited to give a speech during the ERIAFF Conference Plenary session on the 23rd, when Hugo De Vries, the FOODPathS coordinator, will talk about "The importance of regional partnership in the future European sustainable food system".  You can register to the whole conference here.
Join us in Bolzano and discuss the role of regions in the transition with us!