External event | 13 Oct 2023 | Plovdiv, Bulgaria & Online
Regional Innovation Valleys for Bioeconomy and Food Systems
Don't miss the Regional Innovation Valleys for Bioeconomy and Food Systems launch event on 13th October 2023 in Bulgaria!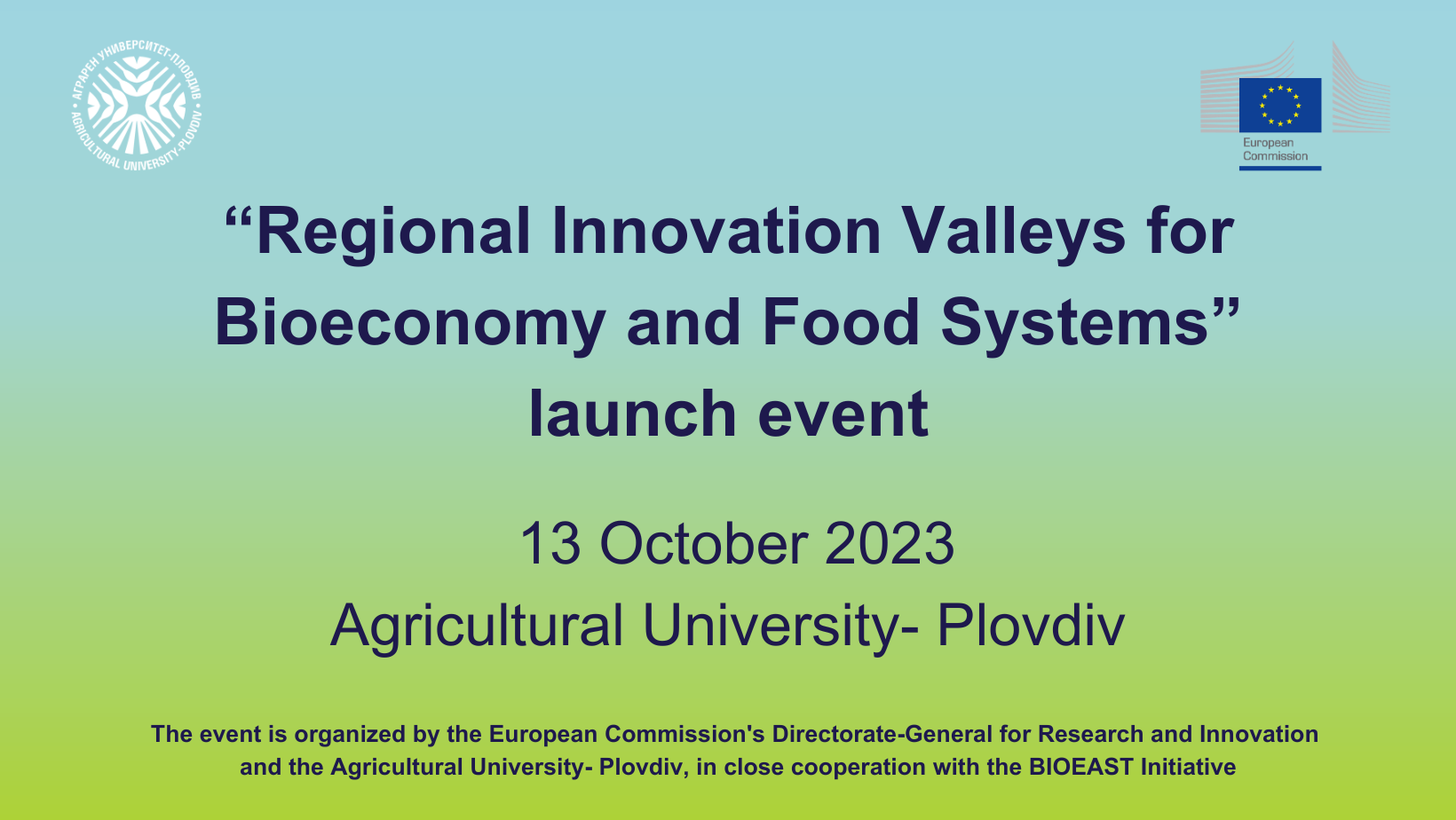 The Regional Innovation Valleys for Bioeconomy and Food Systems will contribute to the New European Innovation Agenda and its flagship action in building 100 regional deep-tech innovation valleys.
These valleys can serve as powerful tools to support and implement the bioeconomy in regions where communities live and work, as well as to address the innovation gap among the different EU member states, with a focus on Central and Eastern Europe. This initiative is in line with the New European Innovation Agenda, which aims to bring Europe at high levels of deep tech innovation and start-ups. Moreover, by bringing together these different regions, it will be possible to address several challenges that the EU currently faces, such as the dependency from fossil fuels, increasing global food security, mastering the digital transformation, improving healthcare and achieving circularity. Bioeconomy can thus play a significant role in food systems, as its innovative solutions and practices can contribute to their transition.
The event will focus on presenting EU tools for the creation of a network among the Regional Innovation Valleys for Bioeconomy and Food Systems, but also on providing examples of best practices from Member States and discussing potential challenges and opportunities. In addition, the focus will also be on education and on how to implement bioeconomy in the current curricola.
Organised by the European Commision's Directorate-General for Research and Innovation (DG-RTD) and the Agricultural University of Plovdiv, in close cooperation with the BIOEAST Initiative, this event will be live-streamed and recorded. 
More information about the regional innovation valleys is available here.